Yachts & Boats Refit Services in Mallorca
REFIT MALLORCA is one of the leading companies specialised in a wide variety of interior and exterior refit and refinishing services for yachts and all kinds of boats. Based in Mallorca and offering personalized services in all Mallorca ports.
Interior and exterior Yacht Refitting and Refinishing Specialist in Mallorca, Spain.
Our customers are boats and yacht owners, captains and ship managers who're looking for professional, detailed and specialized interior and exterior refit services. We offer a dedicated team of Specialist and Skilled Craftsmen to be a proactive in providing complete solutions and professional hi-end services for all kinds of boats:
Yacht
Superyacht
Catamaran
Sailboats
Cruiser
Antique & Classic
---
Refit Mallorca – Exterior and Interior Refit and Refinishing Services
We can turn your dreams into an artistic reality with the best team specialized in yacht and boat interior refurbishment.
This are some of the services that we offer:
Most of our interior work can be done on board, which means you don't have to worry about moving your boat with all the inconveniences that this implies. Our mobile team can go where you need and start working. Thanks to our innovative system of insulation cabins our team will be able to do painting and varnishing work without interfering with the other areas of your vessel. Allowing you to do other work at the same time or continue with the crew's schedule.
---
Work with the best exterior and interior refit company in Mallorca.
Refit, Repair and Refinishing yacht interiors and exteriors is our specialty, our services features a professionally trained team of yacht specialists that are dedicated to providing high end solutions for your needs. We don't just work but we take great pride in what we do.
Ending our work with special attention to detail is a benchmark that others aspire to, enabling you to leave your vessel in our care with the certain knowledge, that all work will be completed to the highest standard with personal care and attention, on time and within budget.
Finishing on a yacht is the most visual element of any project making the quality vital. In today technology it is the spray gun that rules along. Our Spray Painting & Varnishing services can be done in any port in Mallorca by our Mobile Team without interfering other daily work and crew schedule.
Interior and exterior finishing is a crucial element which defines the style of your boat. We provide a variety of finishing services for boats, our well-equipped team can cater any kind of yacht interior or exterior finishing job. Working with the world's best paint brands, our teams of fully qualified painting specialists, offer a high level of quality and service on all types of jobs.
Talk to us about your project and your needs and our experts will advise on a best accessibility strategy and solutions to meet your requirements. Completely Satisfied Customers is our motivation. That has always been the case. We have committed ourselves to the highest possible transparency and reliability.
Contact Refit Mallorca today to find together the best solution that fits your particular needs.
---
Services for yachts and vessels in all ports of Mallorca
Our company is based in Mallorca due to its strategic location in the Mediterranean and a transit point on many sea routes, as well as a one of the favorite destination for lovers of sailing. Mallorca is an international benchmark for boat repair and also one of the most important seaports on the Spanish coast where hundreds of boats dock all year round.
Mallorca
We offer our services in all ports of Mallorca.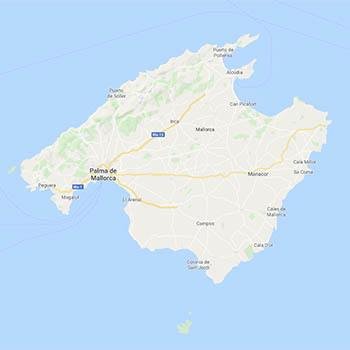 Palma de Mallorca, Port Adriano, Alcudia, Puerto Portals, Arenal, Cala Ratjada, Santa Ponça, Andratx, Calanova, Ca'n Picafort, Pollença, Porto Colom, S´Estanyol, La Rápita, Molinar, Portixol, Cala D´Or, Soller, Palma Nova, Porto Cristo, Cala Gamba, Colonia San Jordi, Porto Petro, Sant Antoni, Colònia de Sant Pere,…
Please do not hesitate to contact us if you require further information