Refit Mallorca offers replacement, manufacturing and repair services for windscreens, windows hatches and glazing for the nautical sector. Our activity is focused on Mallorca and we service all the ports of the island.
---
Replacement and repair service for windscreens, windows, hatches and screens for yachts and boats in Mallorca.
We are experts in boat glass services. Our technicians have a wealth of experience in the marine glass industry servicing yachts and boats all over Mallorca. From replacement or repair to new construction of any type of glass for boat, yacht or superyacht, no job is too complex for our specialist marine glass professionals.
Please Contact us to discuss your requirements.
---
Replacement marine windows and screens
Refit Mallorca carries out the replacement of windscreens and windows for boats, yachts and all types of boats throughout the island of Mallorca. You no longer have to worry about how to get your boat to the workshop because our team of experts comes directly to your dock in Palma or to any port in Mallorca. Our team comes equipped with the new windscreen and the necessary tools to get the instalation done quickly so you can get back on the water.
The glass on your boat or yacht can suffer many different types of damage. Whether an impact to your windshield causes a minor crack or something larger crashes into it, causing irreparable damage or shattering, you need true boat glass professionals who can come to your aid. The importance of a solid, fit-for-purpose boat window can often be ignored. However, your windows and screens need to be resilient, weather-resistant, robust, to ensure safe passage when out on the water. We offer a fast and friendly mobile service that will repair or replace your boat glass the right way so you can keep on sailing.
We can replace:
Windshelds
Glass doors
Hatches
Fixed windows
Sliding windows
Arquitectural glass
If you are looking for replacement boat windows or screens, the team at Refit Mallorca is here to help. Contact us and let our technical specialists advise you on the best solution for your needs.
---
Marine glass damage repair
Our team of glass repair specialists can repair scratches on all types of glass.
Over time, the windows of boats and yachts deteriorate due to, salt water, sun, chemical cleaning and daily wear and tear. This can make the glass look bad or reduce visibility. Our experts have years of experience working in the marine industry and will restore damaged glass to its former glory.
There are many cases where a simple repair is enough to leave the glass in good condition avoiding the cost of a glass replacement.
Arrange a visit with one of our specialist boat glass repair technicians and we will advise you if a repair is possible or if the damaged glass needs to be replaced.
Our specialist window and windscreen scratch repair technicians can repair:
Scratches on marine glass
Scratches on hatches and acrylic windows
Salt-water corrosion on glass
Just give us a call, and we'll schedule a visit.
---
Customised nautical glass and curved glass manufacturing
Refit Mallorca also offers a custom-made nautical glass manufacturing service. In many occasions it is very difficult to find a glass to replace the original. Our team has a custom glass manufacturing workshop in Spain, so we can manufacture all types of custom made glass and curved glass to suit your boat.
In modern yacht building the use of glass is ever increasing. Not only are windows getting much larger, but glass is often being used in the overall design and styling of the yachts. We can manufacture any type of glass you need for your boat or yacht with the best quality and finish that a yacht deserves.
We are experts in the production of laminated, tempered, curved or flat glass and special laminates for the nautical sector, which maintain their properties over time, avoiding the "delamination" effect.
---
Glass tint and UV protection for yacht and boats
Infrared and UV rays can be extremely uncomfortable, damaging, and inefficient when operating or enjoying your vessel. These harmful rays cause damage to your eyes or skin, fading to your interior and electronics, and even heightened fuel consumption as the vessel struggles to maintain a cool cabin.
With glass tinting we can offer a clear passage of visible light without heat or glare disrupting your experience. This technology can block 99% of these harmful rays keeping a cool environment inside. We have many marine film tinting options to suit your needs and your aesthetics.
Window Tinting Film Shades
It is fair to say that window tinting offers a number of technical and aesthetic benefits to yacht owners, crew and guests onboard, including:
Blocking out harmful UV
Minimising sun glare
Reducing interior heat
Improving the 'look' of a vessel.
Enhancing privacy
With tint options ranging 5%, 10%, 20%, 35%, 50% Visible Light Transmission (VLT), we are able tailor our yacht window tinting solutions to each individual requirement.
Furthermore, the films used are of such high quality that they are often mistaken for being factory installed tinted glass, making them an ideal solution for even the largest and most prestigious of yachts.
Photochromic and transition window films
Photochromic technology has become increasingly popular for a number of applications, ranging from window films and optical lenses to glass and window tint applications on yachts and boats. Also known as transition films, photochromic films have unique properties that are distinguished primarily by their appearance. In daylight or when exposed to sunlight, photochromic films produce a darker shade that offers the same ultraviolet (UV) protection as most sun protection films. At night, however, photochromic films appear clear and transparent, as if they do not exist. Photochromic tinting technology helps save money on cooling costs, allowing boats to use less air conditioning. You get the same energy savings and glare reduction as with static tinted films, with the advantages of better visibility on low light days or nights.
---
We offer our boat glass replacement and repair services in all ports of Mallorca.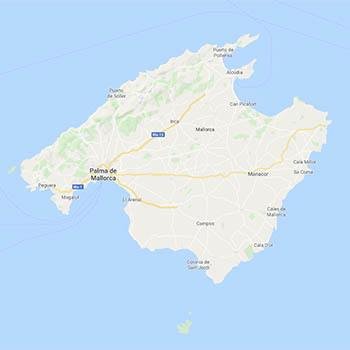 Palma de Mallorca, Port Adriano, Alcudia, Puerto Portals, Arenal, Cala Ratjada, Santa Ponça, Andratx, Calanova, Ca'n Picafort, Pollença, Porto Colom, S´Estanyol, La Rápita, Molinar, Portixol, Cala D´Or, Soller, Palma Nova, Porto Cristo, Cala Gamba, Colonia San Jordi, Porto Petro, Sant Antoni, Colònia de Sant Pere,…
No matter what port in Mallorca you are in, our team can come to your boat and replace the windscreen as it can be very dangerous to drive your boat without a windscreen or even a damaged one.
Please, contact us if you require further information