We will get the best quality and the best price to refit and repaint your yacht in Alcudia and all ports of Mallorca. We are specialists in complete renovations of yachts, boats and all types of vessels.
---
Yachts & boats refit in Alcudia Port
Our refit services include
Interior & Exterior Yacht Painters in Alcudia
Looking to refit your yacht in Alcudia? A new coat of paint is sometimes all you need to make a huge impact. Imagine how fresh and new your boat can look with a touch of new paint! At Refit Mallorca, our yacht painters in Alcudia strive to make this dream become a reality. We provide a wide range of interior and exterior yacht painting services throughout all of Mallorca. Our crew has experience working on a wide range of painting projects, and will be there with you throughout every step of the process. We will complete your painting project with the quality you would expect while adhering to a timeline that works for you.
Contact us to obtain a quality budget for your Project.
Boats Varnishers in Alcudia
Old varnish equals less protected wood and an old-fashioned look to your yacht. Our tur team of varnishers in Alcudia can make your wood look like new again.
Start revitalising the wood elements of your yacht with a stain of your choice, matching the existing shade or something completely different and strengthen it with new layers of varnish. Our team of varnishers can make your yacht look like new again with a multi-step process:
We fully clean the wood's surface: All dirt, grime, oil, and old paint are removed, and then the wood is power washed.
Sanding: The most crucial step, this stage smoothes out the surface and opens up the wood's pores, making it more receptive to the stain.
Staining: Depending upon the job, we coat, spray, or roll on a stain of your choice.
Seal It with Varnish: As the varnish is applied after, the color remains strong for years.
Furniture inside and outside your yacht can benefit from our services too.
---
Yacht refit in Puerto Alcudia
On the north coast of Mallorca lies the Bay of Alcudia, a gorgeous coastline comprising of turquoise shallow waters and long, soft golden sandy beaches. With its extensive sands, shallow bay, and mountainous backdrop, it's not a surprise that Port d'Alcudia is a popular yacht destination. Nearby wetlands provide a natural escape, while the town's beaches are ideal for sunbathing and water sports alike.
The combination of recreational craft berthing facilities, an increasing need for goods to supply the island, and traffic to and from the island of Minorca and other ports on the Spanish mainland, make this port unique.
The Alcudia port has two different areas: a commercial dock and a small craft dock, which is made up of a fishing quay and a marina.
Alcudiamar port
With approximately 730 moorings Alcudiamar is a strategic infrastructure for Mallorca. Its situation in the north of the island (03°08'E-39°49'N) makes this port a safe refuge for all types of boats, sports, leisure and fishing, of all lengths and conditions. Also known a a good spot to repair and refit yacht in winter season.
---
Mallorca
We offer our services in all ports of Mallorca.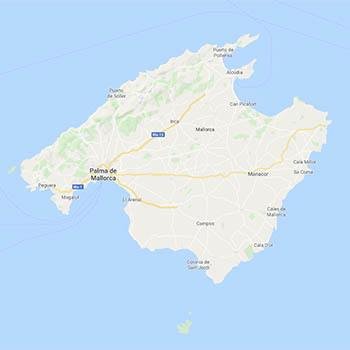 Palma de Mallorca, Port Adriano, Alcudia, Puerto Portals, Arenal, Cala Ratjada, Santa Ponça, Andratx, Calanova, Ca'n Picafort, Pollença, Porto Colom, S´Estanyol, La Rápita, Molinar, Portixol, Cala D´Or, Soller, Palma Nova, Porto Cristo, Cala Gamba, Colonia San Jordi, Porto Petro, Sant Antoni, Colònia de Sant Pere,…
Please do not hesitate to contact us if you require further information