Refit Mallorca we specialise in high quality Yachts and Boats varnishing and refinishing services in Mallorca. We work on both interiors and exteriors of yachts & boats to produce finishes that will renew the look of your boat and make it shine again. Our expert Boat & Yacht Painters and Varnishers can handle any job from completely stripping the old varnish of your boat and re-applying varnish or to just do a few touch ups to make it look new again.
---
Marine Varnishing services in Mallorca
Drape your yacht with elegance using our stain and marine varnishing services and give your boat timber back to life.
We are experts in yacht and boat painting in Mallorca, Refit Mallorca has excelled over time in giving boats back their own beauty. Varnishing and staining the wooden elements of your yacht is an amazing way to revive their charm.
Some of our Boat Varnishing Services include:
Yachts & Boats Interior Varnishing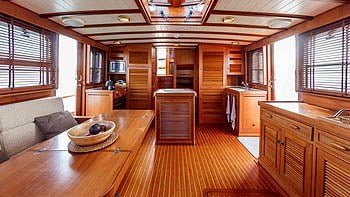 Wood Flooring
Wood Walls
Wood Ceilings
Wood Doors
Wood Windows
Yachts & Boats Exterior Varnishing
Teak Decks
Wood Handrails
Hatches
Doors
Windows
When you are ready to discuss your boat varnishing project, contact us to speak with one of our experts.
---
Boats & Yachts varnishing and stain
Varnishing yachts and boats is important to protect the wood of your boat and keep it looking and performing impeccably. Our offer of varnishes solves the needs of coloring, coating and protection of wood providing innovative and durable solutions.

Varnishing: Thanks to a rigorous selection of the best nautical varnishes, primers, fillers and finishes together with an optimal application of the best techniques we guarantee our customers a perfectly new high quality finish that will improve the life of your wood and make it look like the first day.
Staining : From the lightest tones to the most intense shades, including natural varnishes that respect the colour of the wood itself. All this is possible by using the most advanced techniques for staining wood
Spray and brush varnishing: choosing the best technique for each area or application we can apply the varnishes with spray or brush.
UV Varnishes: The UV rays of the sun cause cracks in the varnish and with constant exposure to water the varnish layers break up and separate. To prevent UV rays and water from penetrating the wood of your boat, We use the best UV varnishes that offer the best performance in terms of resistance, gloss and instant drying under the effects of UV radiation.
Finishes: Our varnished finishes can be customized with a wide range of glosses from extra-matt finishes to high-gloss finish, including matt, semi-matt, satin and semi-gloss.
Re varnishing and Varnish restorations: Remove old layers of deteriorated varnish by sanding and properly preparing the wood to applying new layers We an revitalized boats with luster bringing back the aesthetic life of their woodwork.
Wood Touch Up: Wood need a certain amount of care to keep it looking its best. We use Touch up techniques to repair scratches, indentations, gouges, and stains
Varnishing wooden floor for yachts and boats: requires a high resistance treatment. Our vanishing cycles offer extra protection, durability and extra water resistance.
Varnishing the exterior wood of boats: We use varnish treatments specially designed for the exterior of boats that provide all the necessary protection for the most extreme conditions. All the wooden exterior elements of your boat, such as wooden floors, teak decks, wood handrails, windows, hatches, … will be fully protected and looking their best.
Our stain and varnish service covers interior and exterior. Finishes can be customized with a wide range of glosses from matte to the glossy finish.
We offer our services in all ports of Mallorca.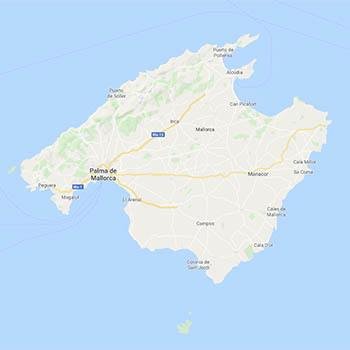 Palma de Mallorca, Port Adriano, Alcudia, Puerto Portals, Arenal, Cala Ratjada, Santa Ponça, Andratx, Calanova, Ca'n Picafort, Pollença, Porto Colom, S´Estanyol, La Rápita, Molinar, Portixol, Cala D´Or, Soller, Palma Nova, Porto Cristo, Cala Gamba, Colonia San Jordi, Porto Petro, Sant Antoni, Colònia de Sant Pere,…
Please, contact us if you require further information
---
Best boats & yacht varnishing company in mallorca
Properly preparing the wood prior to applying any varnish is essential to the outcome of the project. Brightwork that is beautiful to the eye and long-lasting is never accomplished if proper attention is not paid to the preparation of the surface before the application. Attention to details is our priority. We will do our best to achieve the finish you had in mind for the interiors or exteriors of your boat.
If your boat needs a touch up, for any questions or to book your boat for a varnish, please CONTACT REFIT MALLORCA at +34 625815227
---
We only apply a selection of high-tech products and varnishes designed for interior and exterior of boats & yacht manufactured by the best brands on the market.