Refit Mallorca offer boats and yacht interior painting services in Mallorca. The interior painting of a yacht has a significant influence on its aesthetics and atmosphere. Refreshing paint or taking on a whole new color scheme is an easy way to transform the interior of your yacht to better suit your style.
---
Creating the Ideal Atmosphere on Your Yacht
When painting the interior of a yacht, choosing the right colors is essential to creating the desired aesthetic, but making a decision can be difficult. Our paint experts can make an exact color match or guide you through some basic ideas and color schemes. We offer exceptional service at every phase of your project, from the initial color consultation until the job is complete.
We can paint all boats interior spaces:
Kitchens
Living rooms
Bedrooms
Bathrooms
Hallways
Control room
Walls
Doors
Floor
Ceilings
Windows
Hatches
When you are ready to discuss your interior painting project, contact us to speak with one of our experts.
---
Boats & yacht interior painting and refinishing
As a boat owner, you likely know how quickly your boat interior finishes degrade and start looking weathered or aged. Whether it's from living the salt life in Mallorca or simple wear and tear. It's a lot of work to keep the inside of your vessel in good shape.
Our team specializes in painting the interior of yachts and all types of boats, choosing the best technique for each area or application.
Boat interior spray painting
Boat interior spray painting provides a fast and economical way to apply high quality paint layers to a wide range of surfaces. Here are some benefits of spray paint systems:
RANGE OF SURFACES: Industrial spray painting works with a wide range of liquid materials such as paints, stains and primers. It offers a high degree of control and uniform coverage on surfaces such as wood, metal, plastics and fibreglass.
SPEED AND EFFICIENCY: If you're painting a large surface area spray painting can cover a large area, very quickly. This can reduce the time needed to do a job as well as reduce the cost of the job.
LESS WASTE: Another advantage of the spray paint system is that the waste of material is greatly reduced compared to brush or roller painting and this also offers a fast drying paint.
EVEN DISTRIBUTION OF PAINT: Spray painting results in a more uniform distribution of paint across the work surface and also ensures that you are able to reach the nooks and cracks which are usually left off when brush painting.
BETTER FINISH: Spray painting services give a smooth and even finish, which can withstand wear and tear as well as harmful corrosion. Paint particles in the form of tiny droplets are expelled at pressure to produce a perfect finish or different finishing touches like solid, metallic or pearl finish.
Boat interior painting by brush and roller
Some areas of a yacht's interior cannot be sprayed in those areas our expertise can apply hand painting techniques such as roller or brush painting. The finer details and touches needed on the interior of a boat can best be done with a brush by an expert painter using the right technique.
---
The best yacht painters and varnishers in Mallorca
Let a Professional Painter Handle the Job
Working inside a ship requires a lot of precision and extra care. Our team of painters has a experience in perfecting the interiors of yachts of all sizes. We check all surfaces to make sure they are meticulously prepared to ensure a great finish. The interior of your boat will be protected and ventilated during the project, thanks to our innovative system of insulation cabins our team will be able to do painting work without interfering with the other areas of your vessel. Allowing you to do other work at the same time or continue with the crew's schedule and ensuring a safe environment.
Hiring a professional painter for yacht painting services in Mallorca can save time, money, and headaches. Our painters are equipped with vast knowledge of techniques and best products and materials to deliver the highest quality results for interior and exterior painting. Our team guarantees that you will be completely satisfied with the quality of our work and deliver the best results for you and your vessel. We also offer exterior painting services for yachts .
We offer our services in all ports of Mallorca.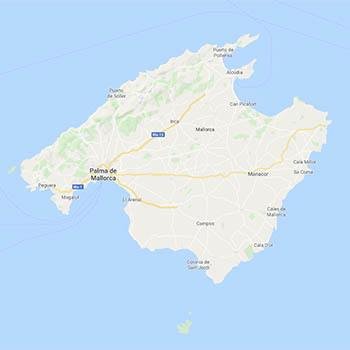 Palma de Mallorca, Port Adriano, Alcudia, Puerto Portals, Arenal, Cala Ratjada, Santa Ponça, Andratx, Calanova, Ca'n Picafort, Pollença, Porto Colom, S´Estanyol, La Rápita, Molinar, Portixol, Cala D´Or, Soller, Palma Nova, Porto Cristo, Cala Gamba, Colonia San Jordi, Porto Petro, Sant Antoni, Colònia de Sant Pere,…
Please, contact us if you require further information
---
Only using the best quality paints and products from the world's leading manufacturers: